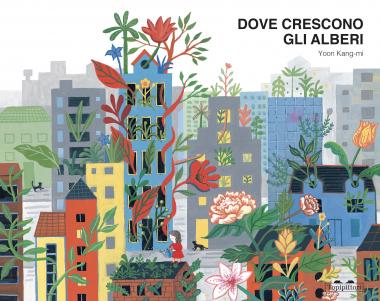 The air is polluted and people can't go out. So a little girl takes a sheet of paper and her colours, and starts to make a drawing: she begins by outlining a house, very similar to the grey building she sees from her window, then she decorates it with wild flowers on every floor. Then the building grows into a city, and in the middle of the city she puts an enormous greenhouse where the most beautiful animals live, with a lots of rooms for friends to meet, a swimming pool, a restaurant for snacks, a garden full of flowers and many, many trees. A delicate book by the Korean author and illustrator Yoon Kang-mi, to tell how children's imagination is all it takes to change the world.⁠ [Text in Italian]
A book for:
thinking about the relation between human beings and nature;
designing our ideal house;
writing at school a new "Declaration of the Rights of the Child".