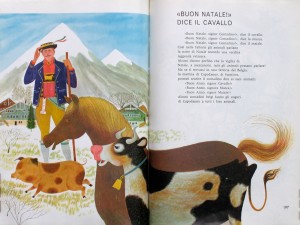 Cliccate sull'immagine per leggereil testo

Childcraft. The How and Why Library nacquenegli anni Trenta. Era un progetto rivoluzionario di enciclopediaper ragazzi creata con l'obiettivo di insegnare e istruire,divertendo.

Partita con sette volumi, nel 1950 arrivò a quindici. E,infatti,

quandoapprodò

in Italia,negli anni Sessanta, si intitolò proprio I Quindicilibri. Fu un clamoroso successo. Ogni volumeera dedicato a un tema: Racconti e fiabe,Poesie e rime, Il mondo e lo spazio,La vita intorno a noi, Come funzionano lecose, Fare e costruire, Scienziatie inventori ecc.   Il quindicesimo volume,intitolato Voi e il vostro bambino, che nessunbambino sano di mente ha mai preso in considerazione, si rivolgevaai genitori, dispensando loro consigli su come conoscere, allevare,educare e curare i loro figli. La qualità dei testi e delle immaginidei Quindici era notevole. Basti dire che fra gliillustratori che lavorarono ai Childcraft ci furonoMaurice Sendak, Charlie Harper, William Steig ed Eloise Wilkin. E chel'edizione originale americana del volume dedicato alla poesia annoverava,oltre alle celebri nursery rhymes di Mamma Oca, testidi Robert Louis Stevenson, Kate Greenaway, Robert Frost, Longfellow,Shakespeare, Kipling e altri importanti scrittori.La pagina che quivi proponiamo, deliziosa nella sua elvetica ingenuità, ètratta dal volume Feste e costumi. In tuttaItalia, vi sono leggende che raccontano di animali parlanti,la notte di Natale. Da oggi il nostro blogva in vacanza. Tornerà il 31 dicembre con un post estemporaneoe augurale sul capodanno, anche lui tratto dall'ottimistica einesauribile vena dei Quindici.

Riprenderemo poi laconsueta attività il 10 gennaio.

Grazie per averci seguito e tanti auguri atutti!